Category Archives: Photography
Hi again 😉
As I am using a manual lens on my DJI Inspire and Osmo Pro I ran into some problems using Adobe Lightroom and Photoshop to edit and develop my DNG files.
After an obvious successfull import you can´t edit images taken with every manual lens mounted on a DJI Zenmuse µFT camera.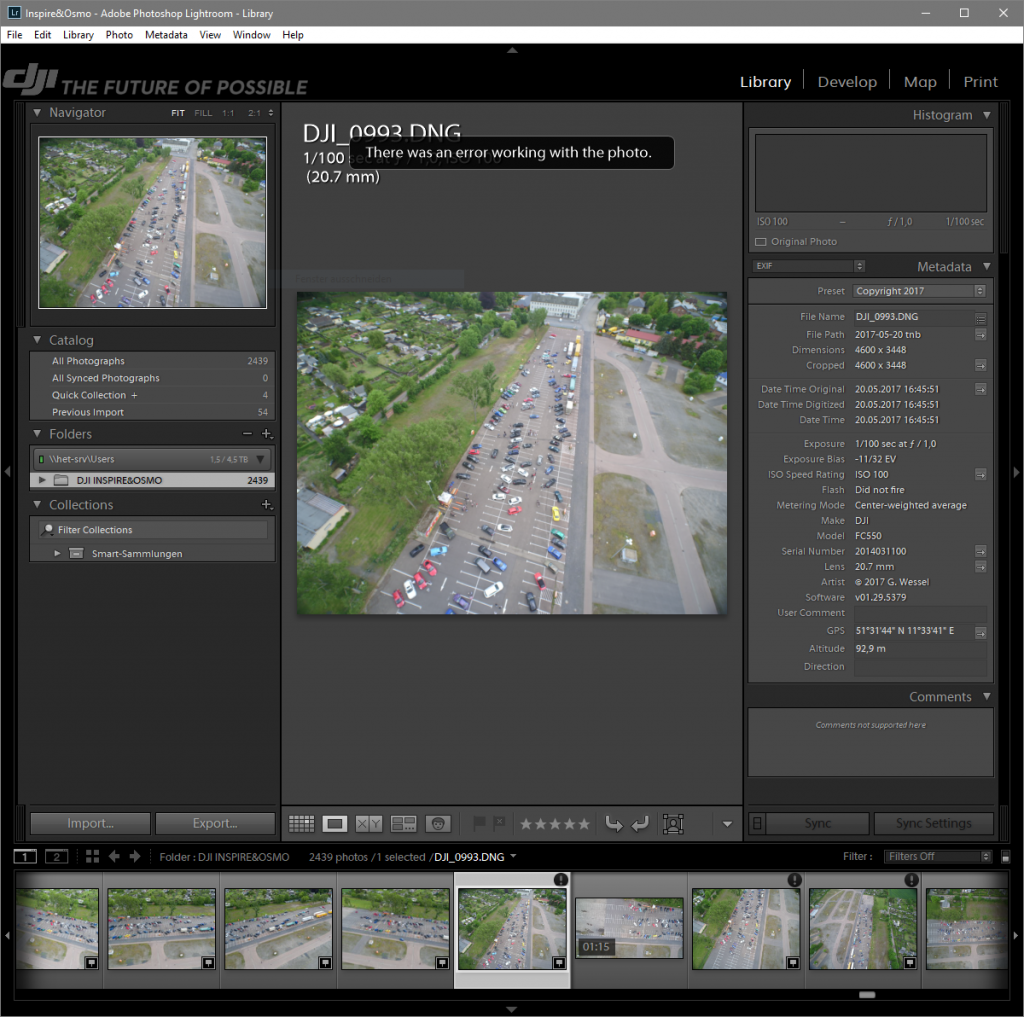 With other RAW convertes like Capture One (Phase One) it works like a charm, but all of my workflow is based on Lightroom, so i needed to got it to run. After short research and contact with camera, lens and software makers I found out whats the problem.
The Adobe Camera Raw module and the Adobe DNG Converter engine are expecting some informations out of the image file, which is not written by the camera as it´s not able to communicate with the lens.
DNG files should contain informations about focal length, aperture and so on, the so-called Opcodes. These also are a part of automatic vignette correction.
As my Olympus OM-D M5 simply seems to leave the fields blank, and therefore works flawlessly, DJI cameras appear to write some weird stuff into the opcode fields which cause the Adobe engines to fail.
The solution is a bit more complicated as i expected. Unfortunately, out there´s just one tool that simply removes (or blank) the opcodes, and it´s designed for macOS.
It was developed by a Leica owner to prevent Adobe LR from automatically correct his DNG files. Read more and get the tool from the Leica-Forum.
https://www.l-camera-forum.com/topic/226978-tool-to-remove-dngraw-software-lens-correction-instructions
As I am using Microsoft Windows and got no macOS device, i thought about using a virtual machine, which works fine. In the end, i use another tool named EXIFToolGUI to write the lens model, aperture and focal length Information tags into the bunch of pictures i took before finally import it.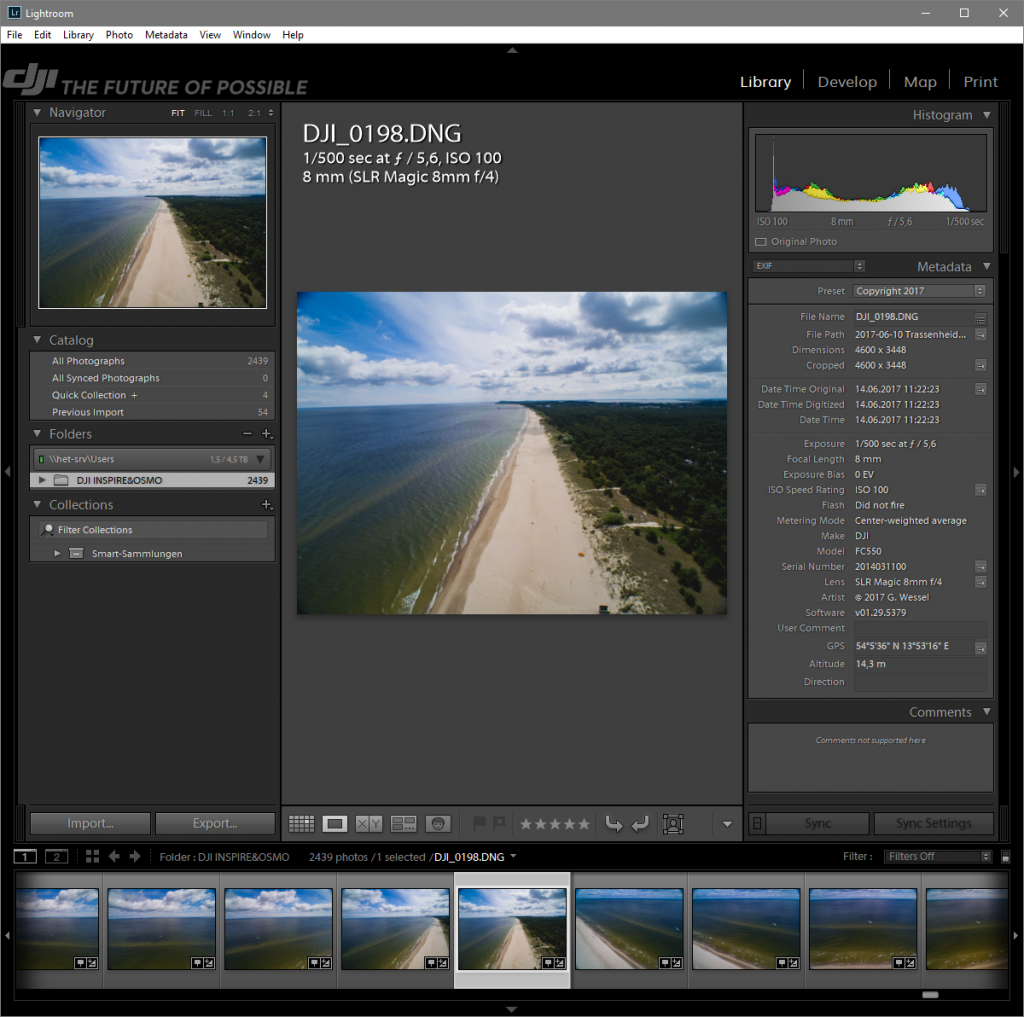 So everything seems to be fine, but it costs a bit of time.
But what to do now?
Lens manufacturers: They could develop new lenses with chip, which tells the DJI cameras about itself. This will make very interesting lens more expensive and is not a good way.
Adobe DNG Converter / Adobe Camera Raw: Adobe just interprets the DNG file, which is it´s own standard. Adobe could add default options to stupid import images without doing anything after that. That would be great for some people, but.. won´t happen.
DJI: As i stated earlier, my Olympus E-M5 just ignores that it´s mounted onto a manual lens, so DJI just could do the same. But DJI Support mailed me right after contacting it, that the lens is not supported and that was it. The only player in this match who simply could do some software adaption to solve the problem seems to be "not in the mood" of fixing it. 🙁
Hey there!
Welcome to my short review of the latest SLR Magic Lens.
They created an ultra wide angle lens, designed (mainly) for aerial photo- and videography.
At first some pictures of the lens itself:
Also, SLR Magic offers a combined filter for it´s lens, the so-called Image Enhancer Pro.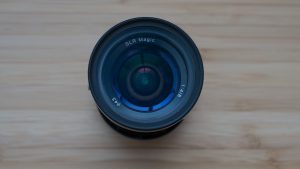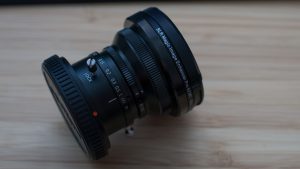 SLR Magic 8mm f/4 Lens with attached SLR Magic Image Enhancer Pro
The lens and filter are mainly designed for usage on DJI aerial cameras on the DJI Inspire UAV Series. It balances well on my Zenmuse X5 and should do exactly that on Zenmuse X5 RAW or the new Zenmuse X5s on the DJI Inspire II platform too.
So, the great question for me was: what does aerial video with a focal length of 8 mm on Micro four Thirds, equals 16mm full-frame, look like? Here´s the answer (with unedited footage except in parts of cutting and speed):
I am just excited about the perspective this lens is giving me. There is no distortion and vignetting when using the 8mm lens in 16:9 Format.
Attention: when using 4:3 format and your full sensor, you get some vignetting due to the attached step-up ring and 52mm Image Enhancer filter. 8mm are obviously very wide 😉
The handling of the lens is easy. It´s a manual focus lens, but as of it´s short focal length for aerial usage you should turn it to hyperfocal distance and everything thats about 1.5 Meters and more away is sharp.
I am using the lens too on my Olympus OM-D E-M5 MK I and on the ground-video platform DJI Osmo Pro and, surprise, I am very happy on that too.
Now off to some more sample pictures from the ground: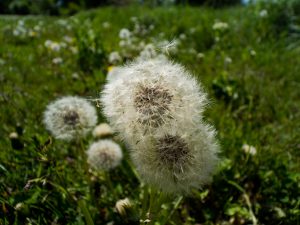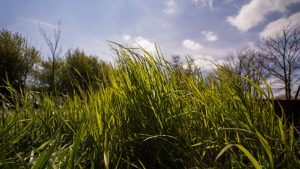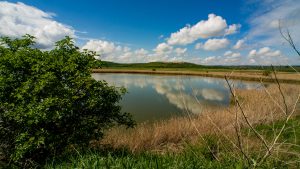 And the fantastic perspective, 8mm from the air:
Last, but not least, 2 shots from making of. The DJI Inspire I Pro with the 8mm attached: